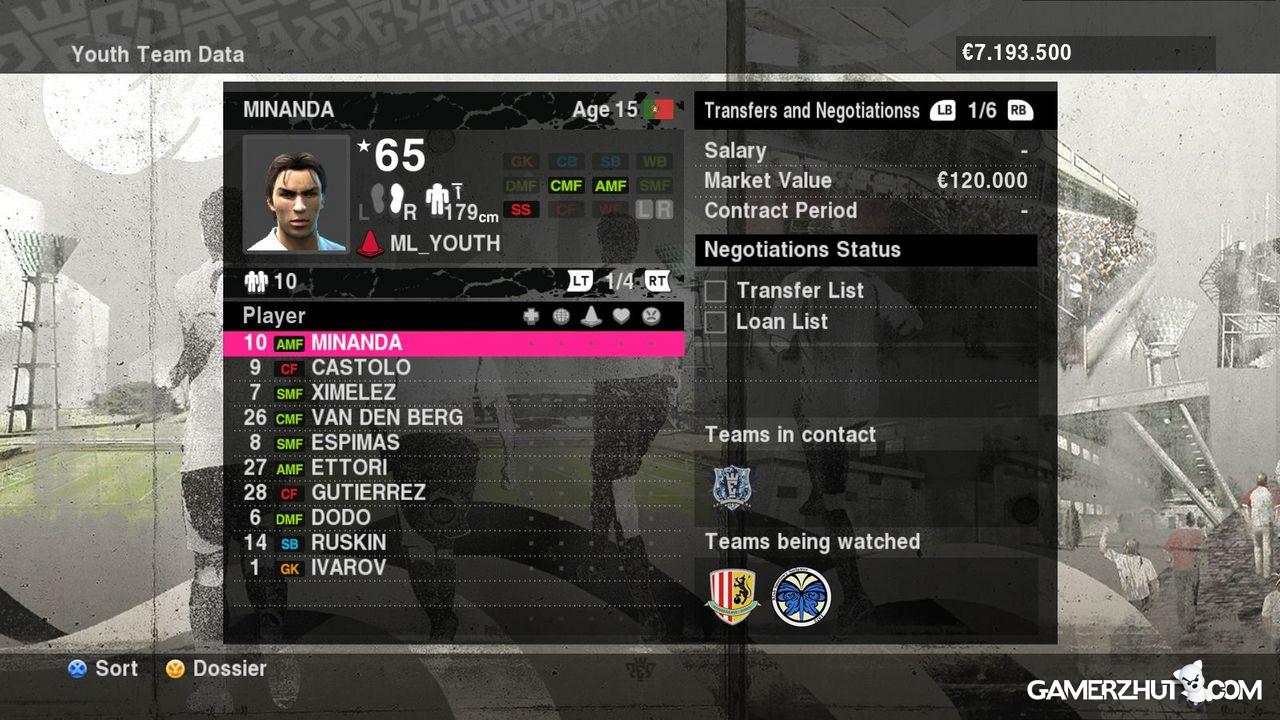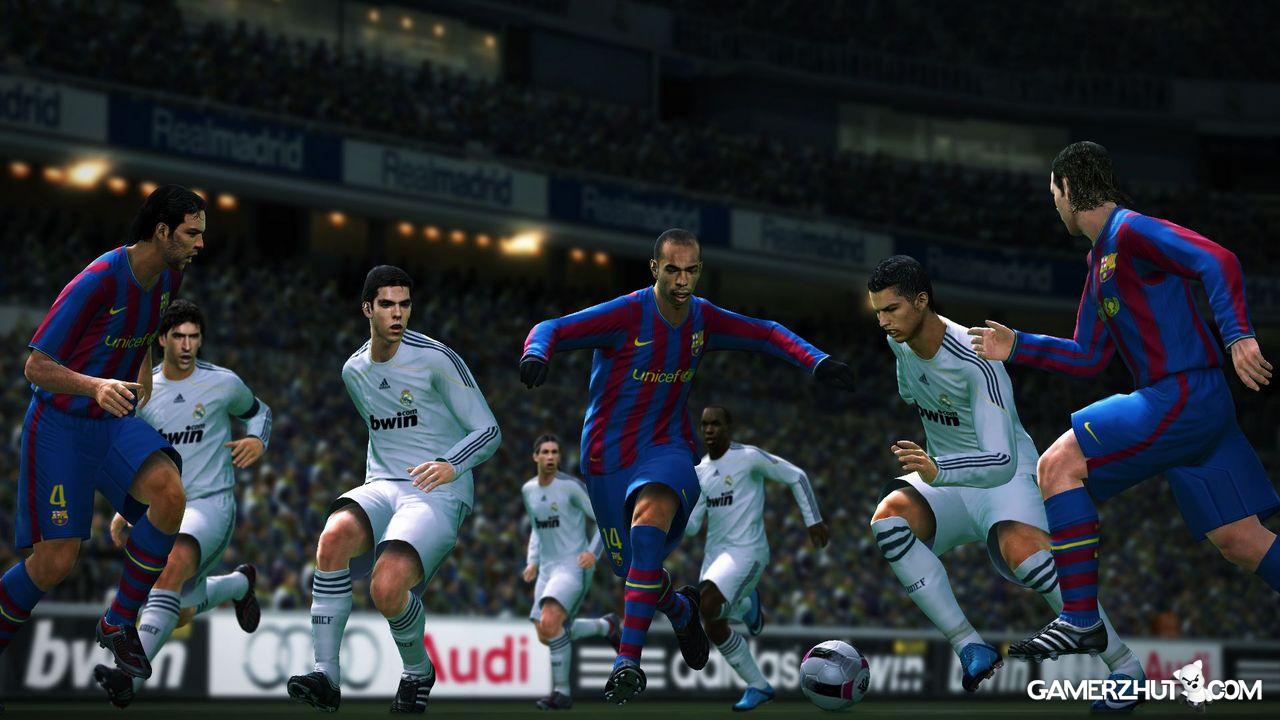 Yapay Zeka
Oyunun yapay zekası üzerine, gelen istekler ve eleşitriler doğrultusunda birçok geliştirme yapılmış. Oyuncuların hareket tarzını "anlayan" yapay zeka, taktiğini bunun üzerine kuracak böylece her iki tarafın da kendini gelişirmesi sağlanmış olacak.
Yine geliştirilen yapay zeka sayesinde aynı anda birden fazla futbolcu kontrol edilebilecek, ataklar daha organize gelişebilecek. Başka bir yenilik ise maçtan önce takımın pasa mı, çabuk hareket etmeye mi yoksa defansa mı önem vermesi istendiği değiştirilebilecek
. Böylece oyuncu seçtiği takımın oyun tarzını istediği gibi sahaya yansıtabilecek.
Büyük fark yaratması beklenen yeni bir özellik ise her oyuncunun kendi yapay zekası olması. Eski oyunlarda takım olarak çalışmaya ayarlanmış yapay zeka artık her oyuncu için ayrı iş görecek. Her oyuncu kendi tarzıyla oyuna yansıtılacak, karşısındaki oyuncular da yine bu tarzı bilerek tepki verecek. Örneğin gol atma ihtimali yüksek olan bir oyuncu ceza sahasına girdiğinnde defans yapan oyuncular onun üzerinde yoğunlaşacak.
Grafikler
Her zaman olduğu gibi futbolcu animasyonları, saha detayları ve ışıklandırma özellikleri PES 2010'da da gerçeğe biraz daha yakın hale getirilmeye çalışılmış. Oyun sırasında futbolcuların verdiği tepkiler, attıkları çalımlar ve topa vuruş hareketleri kişisel olarak ayrıntılandırılmış. Ayrıca takımın kendi sahasında ve deplasmanda oyandığı maçlarda, seyircilerin ve oyuncuların verdiği tepkiler farklılaştırılımş.
Maç Atmosferi
Sahada yaşanan olaylara gelen seyirci tepkisi, PES 2010'da eski oyunlardan daha detaylı olacak. Yeni tezahüratlar ve marşlarla donatılmış seyirciler, sert hareketlere, güzel gollere ve olası hakem hatalarına karşı farklı farklı tepkiler verecek. Takım kendi sahasındayken daha ateşli, deplasmandayken ise daha temkinli olacaklar.
Maç yorumcularının anlatımı da yine gelen eleştiriler ve istekler doğrultusunda daha canlı hale getirilmiş.
Minimum Sistem Gereksinimi;
Windows XP SP3, Vista SP1, Windows 7
Intel Pentium IV 2.4GHz
1GB RAM
8GB HD Bos Alan
Graphic Card compatible with DirectX 9.0c, 128MB Pixel Shader 2.0 ( NVIDIA GeForce FX yada AMD/ATI Radeon 9700 yada daha iyisi)
nERv
Pro Evolution Soccer 2010 (c) Konami
10/2009 :..... RELEASE.DATE .. PROTECTION .......: Securom
1 :.......... DISC(S) .. GAME.TYPE ........: Sports
PES 2010 focuses on enhancing the excitement of matches between players,
making for a truly challenging experience that will constantly test the
player. Intuitive zonal defending will cover spaces and players need to look
constantly for new ways to attack. PES 2010 focuses on being a real football
simulation, as it requires both strategic play and quick reactions, as in
real life. In addition to key out-field elements, goalkeepers are more
versatile and with abilities matching those of modern shot-stoppers. The
games referees have also been reworked, with smarter AI elements allowing
them to make more balanced calls during matches.
PES 2010 has undergone a major visual revamp, with its celebrated player
likenesses and animations now even closer to those of real-life players
including live player expressions to be depicted with an improved lighting
system which differentiates between various conditions! Stadium detail is
also massively improved, with the grass and other in-stadium elements
finely depicted.
1. Unrar.
2. Burn or mount the image.
3. Install the game, use any of the following keys when asked for a serial:
5HRV-LVRU-F75R-MV2L-RK45
RPJ4-7YVV-XSV5-5JK2-H25T
AT7H-KMJL-334W-W3LT-XJWM
D565-K4ES-56JC-YNXN-54J3
CV3L-25UM-7NF7-7RJA-45C3
S2H6-5DTJ-MDPV-37N7-2FAT
73VD-V59A-5ACY-JPDV-EP9J
PJ5C-P7X9-F35D-FDDK-Y7J6
AKF7-LJPK-5YPS-JVDU-J4YP
9VNE-M9ME-KY9S-MVCV-27EM
4. Copy over the cracked content.
5. Play the game.
6. Support the software developers. If you like this game, BUY IT!
rapidshare.com PS.2010-RLDD.Up.by.godsend.VB.part01.rar
rapidshare.com PS.2010-RLDD.Up.by.godsend.VB.part02.rar
rapidshare.com PS.2010-RLDD.Up.by.godsend.VB.part03.rar
rapidshare.com PS.2010-RLDD.Up.by.godsend.VB.part04.rar
rapidshare.com PS.2010-RLDD.Up.by.godsend.VB.part05.rar
rapidshare.com PS.2010-RLDD.Up.by.godsend.VB.part06.rar
rapidshare.com PS.2010-RLDD.Up.by.godsend.VB.part07.rar
rapidshare.com PS.2010-RLDD.Up.by.godsend.VB.part08.rar
rapidshare.com PS.2010-RLDD.Up.by.godsend.VB.part09.rar
rapidshare.com PS.2010-RLDD.Up.by.godsend.VB.part10.rar
rapidshare.com PS.2010-RLDD.Up.by.godsend.VB.part11.rar
rapidshare.com PS.2010-RLDD.Up.by.godsend.VB.part12.rar
rapidshare.com PS.2010-RLDD.Up.by.godsend.VB.part13.rar
rapidshare.com PS.2010-RLDD.Up.by.godsend.VB.part14.rar
rapidshare.com PS.2010-RLDD.Up.by.godsend.VB.part15.rar
rapidshare.com PS.2010-RLDD.Up.by.godsend.VB.part16.rar
rapidshare.com PS.2010-RLDD.Up.by.godsend.VB.part17.rar
rapidshare.com PS.2010-RLDD.Up.by.godsend.VB.part18.rar
rapidshare.com PS.2010-RLDD.Up.by.godsend.VB.part19.rar
rapidshare.com PS.2010-RLDD.Up.by.godsend.VB.part20.rar
rapidshare.com PS.2010-RLDD.Up.by.godsend.VB.part21.rar
rapidshare.com PS.2010-RLDD.Up.by.godsend.VB.part22.rar
rapidshare.com PS.2010-RLDD.Up.by.godsend.VB.part23.rar
rapidshare.com PS.2010-RLDD.Up.by.godsend.VB.part24.rar
rapidshare.com PS.2010-RLDD.Up.by.godsend.VB.part25.rar
netload.in dateiI9YBkmYTac PS.2010-RLDD.Up.by.godsend.VB.part01.rar.htm
netload.in dateiCnjvjjZEon PS.2010-RLDD.Up.by.godsend.VB.part02.rar.htm
netload.in datei4wwyXPOCp8 PS.2010-RLDD.Up.by.godsend.VB.part03.rar.htm
netload.in dateiAsKPX1j0cI PS.2010-RLDD.Up.by.godsend.VB.part04.rar.htm
netload.in dateilrNCAIJRc2 PS.2010-RLDD.Up.by.godsend.VB.part05.rar.htm
netload.in datei9Q2EVLX0RT PS.2010-RLDD.Up.by.godsend.VB.part06.rar.htm
netload.in datei5innw5hTVg PS.2010-RLDD.Up.by.godsend.VB.part07.rar.htm
netload.in datei7e47gNQA2R PS.2010-RLDD.Up.by.godsend.VB.part08.rar.htm
netload.in dateire5jUcfKMH PS.2010-RLDD.Up.by.godsend.VB.part09.rar.htm
netload.in dateiBEgq89L9L6 PS.2010-RLDD.Up.by.godsend.VB.part10.rar.htm
netload.in dateifVunmu1iPA PS.2010-RLDD.Up.by.godsend.VB.part11.rar.htm
netload.in dateiRHKc8Q4WYO PS.2010-RLDD.Up.by.godsend.VB.part12.rar.htm
netload.in dateiDbomB5Bfx1 PS.2010-RLDD.Up.by.godsend.VB.part13.rar.htm
netload.in dateiqpIH1hGYpO PS.2010-RLDD.Up.by.godsend.VB.part14.rar.htm
netload.in dateiBnMZvxBQjb PS.2010-RLDD.Up.by.godsend.VB.part15.rar.htm
netload.in dateiiYXNYd7RPW PS.2010-RLDD.Up.by.godsend.VB.part16.rar.htm
netload.in dateikwmg7jb3uS PS.2010-RLDD.Up.by.godsend.VB.part17.rar.htm
netload.in dateifrJxlsn0Qf PS.2010-RLDD.Up.by.godsend.VB.part18.rar.htm
netload.in dateiLtuuFpGjkg PS.2010-RLDD.Up.by.godsend.VB.part19.rar.htm
netload.in dateihMBHGSlH9m PS.2010-RLDD.Up.by.godsend.VB.part20.rar.htm
netload.in dateiKjoORbvk3V PS.2010-RLDD.Up.by.godsend.VB.part21.rar.htm
netload.in dateizF2dHgAWmZ PS.2010-RLDD.Up.by.godsend.VB.part22.rar.htm
netload.in dateiESZoAedupk PS.2010-RLDD.Up.by.godsend.VB.part23.rar.htm
netload.in dateiVyQ70aCsUd PS.2010-RLDD.Up.by.godsend.VB.part24.rar.htm
netload.in dateip3B7XzC9Yp PS.2010-RLDD.Up.by.godsend.VB.part25.rar.htm
filefactory.com PS.2010-RLDD.Up.by.godsend.VB.part01.rar
filefactory.com PS.2010-RLDD.Up.by.godsend.VB.part02.rar
filefactory.com PS.2010-RLDD.Up.by.godsend.VB.part03.rar
filefactory.com PS.2010-RLDD.Up.by.godsend.VB.part04.rar
filefactory.com PS.2010-RLDD.Up.by.godsend.VB.part05.rar
filefactory.com PS.2010-RLDD.Up.by.godsend.VB.part06.rar
filefactory.com PS.2010-RLDD.Up.by.godsend.VB.part07.rar
filefactory.com PS.2010-RLDD.Up.by.godsend.VB.part08.rar
filefactory.com PS.2010-RLDD.Up.by.godsend.VB.part09.rar
filefactory.com PS.2010-RLDD.Up.by.godsend.VB.part10.rar
filefactory.com PS.2010-RLDD.Up.by.godsend.VB.part11.rar
filefactory.com PS.2010-RLDD.Up.by.godsend.VB.part12.rar
filefactory.com PS.2010-RLDD.Up.by.godsend.VB.part13.rar
filefactory.com PS.2010-RLDD.Up.by.godsend.VB.part14.rar
filefactory.com PS.2010-RLDD.Up.by.godsend.VB.part15.rar
filefactory.com PS.2010-RLDD.Up.by.godsend.VB.part16.rar
filefactory.com PS.2010-RLDD.Up.by.godsend.VB.part17.rar
filefactory.com PS.2010-RLDD.Up.by.godsend.VB.part18.rar
filefactory.com PS.2010-RLDD.Up.by.godsend.VB.part19.rar
filefactory.com PS.2010-RLDD.Up.by.godsend.VB.part21.rar
filefactory.com PS.2010-RLDD.Up.by.godsend.VB.part22.rar
filefactory.com PS.2010-RLDD.Up.by.godsend.VB.part23.rar
filefactory.com PS.2010-RLDD.Up.by.godsend.VB.part24.rar
filefactory.com PS.2010-RLDD.Up.by.godsend.VB.part25.rar
PARTLAR UYUMLUDUR